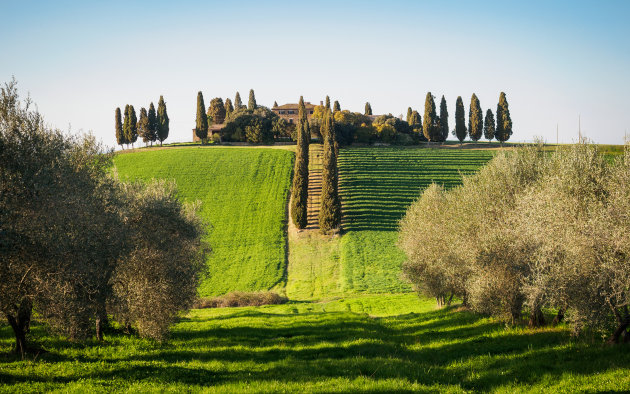 "A land full of treasures": this is how the Telegraph defines Central Italy in a long report explaining to Anglo-Saxon tourists how to enjoy a nice holiday on the Via Franchigena with their own bicycle. To convince Adam Ruck, journalist who mainly deals with travel, it is above all the natural beauties of the Peninsula, as well as the possibility to go mountain biking a route of almost one thousand kilometers that crosses as many centuries of human history. We do not struggle to understand why the English correspondent has been enchanted by it.
GOOGLE MAPS
From the hills of the Great St. Bernard to Rome, the Via Francigena was traced in 990 AD by the Archbishop Sigeric of Canterbury and led the faithful on a pilgrimage to the Papal States, constituting for centuries an almost inevitable obligation for every Christian. Despite the passage of time, the route has preserved all its charm, also enchanting Adam Ruck, but he wanted to take a much shorter path than that of the pilgrims of the past, starting from Tuscany to head in the heart of Lazio.
The journalist has relied on a travel agency to let himself be immersed in the magic of the Via Francigena and in his article describes in detail every detail of the trip, from the equipment of the bike companions to the meals. Instead of the Alps, the group moved from San Gimignano: "Tuscany is as beautiful as a photograph", the correspondent writes in what can be defined as a real travel diary. "The meadows are uncultivated and not yet dry, the spring fills the landscape with green and poppies.The cypress trees trace the road line and adorn the horizon like a Renaissance painting". These are the words of a tourist in love.
GETTY IMAGES / ISTOCKPHOTO
"Tuscany is full of wonders and our arrival in Siena is anticipated" continues Ruck in his story. "We have pushed our bikes on the most beautiful non-square in the world, piazza del Campo". But the journey of the journalist and of the other cyclists has not stopped and, after the wonders of the UNESCO site of the Val d'Orcia , for Adam it's time to enter Lazio. The Lake of Bolsena, for the journalist, is a "resplendent mirror", while refreshing itself on Montefiascone's belvedere becomes a real panacea.
Even if the holiday at the Via Francigena was not perfect – the correspondent, for example, felt a moment of discomfort when the carabinieri prevented the group from having lunch in the historic center of Viterbo -, the majesty of places like the Etruscan amphitheater of Sutri have repaid it all.